event
now browsing by tag
Are you looking for a quick break away from the kitchen during your holiday cooking? Kick off the holiday season with STYP for a fun-filled evening at the Factory by Beer Tree, located in Johnson City at the Oakdale Mall! Join us on Wednesday, November 24th from 6-9pm for a pre-Thanksgiving mixer— all are welcome, so bring your friends!
We will be offering free food during the event. Stay tuned for more fun details as we get closer to the date! Connect with other young professionals for drinks, food, and great conversations on Wednesday, November 24th! 
Check out the event on Facebook: https://fb.me/e/1e2dybbDO
Want to connect with like minded young professionals ready to make an impact in Greater Binghamton? Register now for the 2021 Southern Tier Young Professional Summit on Thursday, October 14th! The event will be held in an innovative hybrid format— both in person at the Holiday Inn in Downtown Binghamton and online!
The YP Summit is a great opportunity for companies and organizations to provide professional development opportunities geared toward new and upcoming young professionals. The structure of the day allows for meaningful conversations and connections made between attendees, as well as building business and leadership skills. Nationally and regionally known speakers will lead over a dozen breakout sessions over the course of the event. Whether you attend in person or virtually, you will find this to be a rewarding experience!
Pricing is as follows:
Full Day In-Person Ticket: $100
Half Day In-Person Ticket: $55
Full Day Virtual Ticket: $55
Current STYP members will receive a $10 discount towards their admission! Additionally— did you know the YP Summit qualifies for the STYP Professional Development Grant? If you are a current member, apply for the grant after registering!
Details about this year's lineup and general pricing can be found here: https://greaterbinghamtonchamber.com/ypsummit
Volunteer at Binghamton On Tap 2021 while helping benefit the Southern Tier Young Professionals– and have an awesome time doing it! Our volunteer shift is 1-5pm on Saturday, September 18th at the Broome County Fairgrounds (Whitney Point, NY 13862). MUST BE 21 TO VOLUNTEER– sign up using the link below.

What do you do? Simple– pour beer, cider, or seltzer for patrons!

What will you get? Free admission to the event, a complimentary tasting glass, a t-shirt, and the ability to sample beers during the event! Plus, hang out in an atmosphere filled with live music, delicious food available for purchase, and great vendors!

PLEASE ARRIVE AT 12:45PM IF YOU HAVE SIGNED UP TO VOLUNTEER. Please note – you MUST have signed up on the link below in order to participate as a volunteer. Additionally, please only sign up if you know you can participate so someone else can register if you can't!

TO SIGN UP:
Use the link below to register*
*You do not need an account with signup.com to register
Want to learn more about Binghamton on Tap? Check out this website: https://americaontap.com/event/binghamton-on-tap/
Join us on the patio at Remlik's Grille & Oyster Bar August 26th from 6pm-9pm for our Summer Celebration and kick off the close of another summer season come and gone! There will be free food, raffles for new and current STYP members, a cash bar, and more awesome and fun opportunities! If you have never been to a STYP event before, this is a great introduction to what we have to offer.
Come by August 26th and help us make our first Summer Celebration since COVID-19 our most successful yet!
This event will take place outside on the patio. In case of inclement weather, we will move inside.
Check out the event on Facebook!
Looking for a chance to meet other professionals? Stop by Social on State Thursday August 12th from 6pm-9pm for a mixer hosted by STYP! Free, light refreshments will be served and refreshments will be available for purchase.
Say hello and meet other professionals in the area, and sample some of the yummiest food Binghamton has to offer!
Looking for something to do? Come down to the Taco Garage Wednesday, July 28th, for STYP's first restaurant mixer event since lockdown from 6pm-9pm! We will have a gift card raffle for new members and renewals, so check up on your membership status by emailing us at styp@styp.org. Have a friend who is a young professional and is looking for ways to network? Invite them along!

In lieu of a second quarterly meeting, current members will have the opportunity to view reports and have any questions answered. Drop by to hear what's new with STYP!

The event will take place outdoors, but will move inside if it rains. Rain or shine, stop on by!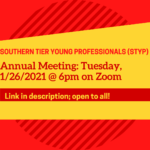 UPDATE: Due to unforseen technical issues, this meeting has been rescheduled to 2/24/2021. New details incoming.
STYP's Annual Meeting is this upcoming Tuesday, January 26th, at 6pm on Zoom. Come tune in to hear about upcoming events and the future of STYP! Members and non-members alike are welcome!

Zoom Information:
Meeting ID: 989 7724 3568
One tap mobile
+19292056099,,98977243568# US (New York)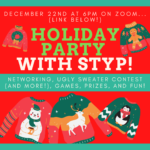 Looking to get into the holiday spirit? Missing your typical yuletide celebrations? Well, STYP is here to bring the party to you! Come join us December 22nd at 6pm for a virtual holiday party on Zoom!

There will be networking opportunities, games, an ugly sweater contest (along with others!), prizes, and lots of fun! Tune in through one of the options below!

Zoom information:
Zoom ID: 981 3662 6934
One tap mobile +19292056099,,98136626934# US (New York)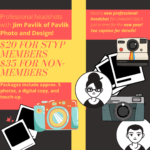 In need of a new professional headshot for your LinkedIn? You're in luck! STYP is partnering with Jim Pavlik of Pavlik's Photo and Design to offer discounted photo packages aimed at refreshing your resume, just in time for the new year (and new opportunities)!
Prices are:
$20 for current STYP members
35 for non-members 
Photo packages include: 5 photos, a digital copy, and touch-up to one photo
Each session is 10-15 mins max. 
Days and times available are as follows: 
12/17 5 pm – 7:30 pm
12/18 1:30 pm – 3:30 pm
12/18 3:30 pm – 5:30 PM
12/18 5:30 PM – 7:30 pm
12/20 1:30 pm – 3:30 pm
12/22 noon – 2 pm, 2 pm – 4 pm
The location of the studio is 136 E Service Road, Binghamton, NY 13901.
Payment and registration required! Please use the PayPalbutton below to submit payment (you will be taken to our PayPal site); registration can be submitted here: https://forms.gle/foETeRvraB9wbnR6A
Examples of Jim Pavlik's work can be viewed here: https://pavlikphotoanddesign.com/
Not a STYP member? Join today to receive the discounted price on this and future events!
Have questions? Please email president@styp.org

Chances are– you're stuck at home these days. Chances are, too, that you may have been spending a little too much money at your local liquor store to substitute going to your favorite bar (don't worry– we're frequent fliers these days).
Instead of buying a new stash for the holidays, how about you treat yourself to a homemade batch of hard cider– and the supplies to refill your wine, cider, and beer cabinets at any time?
On November 21st at 12:00pm EST, STYP will be hosting a virtual "Learn to Brew: Hard Cider!" event in partnership with North Brewery, The Cider Mill, and Doc's Homebrew Supplies. Both STYP members and non-members will receive exclusive discounts on brewing supplies upon registration so you can make your own batch right at home! Additionally, all attendees 21 and over are eligible for either a free pint or $5 off a four pack of beer at North Brewery.
More of a dry cider fan, or do you prefer something sweet? Through our event, you'll learn how to use a variety of yeasts, spices, and sugars to create your perfect flavor, just to your liking!
Once you purchase a brewing kit, it can be used indefinitely for future recipes– from hard cider to beer to even wine! In the coming weeks, we will host a follow-up tasting event where we can share what we learned along with an opportunity to ask questions on how to get the perfect batch next time. Batches brewed during the event will be ready just in time for the December/January holiday season!
Interested? To join, you must pre-register through the form below (also linked here!). A Zoom link for the event will be sent along with a confirmation email upon registration. To guarantee a spot in the Live session on November 21st, payment and registration needs to be made by this Friday (11/13) at 3:00pm EST.
Payments and registration received by Monday, 11/16, before 3:00pm EST are eligible for additional live spots, space permitting, along with access to our recording.
Can't make the Live session? If you register by November 20th, you will receive access to our exclusive video recording, along with full directions to complete your home brew.
While this event is open to everyone at discounted prices, STYP members receive extra deals upon registration– paying 40% less than non-members! Unsure if you're a member? Email membership@styp.org to find out. Not a member yet? Join today and receive discounts on this and future events!
Everything you need to make two gallons of hard cider is included with the purchase of your kit. If you would like to make additional gallons of hard cider, you can purchase more supplies: a carboy (to store the cider) along with a gallon of cider or just a gallon of cider (if you already have an additional carboy at home or want to enjoy a fresh glass of cider while brewing).
Registration Link: https://forms.gle/SQpyKNGN33WaTQTg9