virtual
now browsing by tag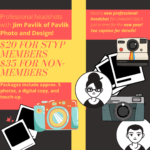 In need of a new professional headshot for your LinkedIn? You're in luck! STYP is partnering with Jim Pavlik of Pavlik's Photo and Design to offer discounted photo packages aimed at refreshing your resume, just in time for the new year (and new opportunities)!
Prices are:
$20 for current STYP members
35 for non-members 
Photo packages include: 5 photos, a digital copy, and touch-up to one photo
Each session is 10-15 mins max. 
Days and times available are as follows: 
12/17 5 pm – 7:30 pm
12/18 1:30 pm – 3:30 pm
12/18 3:30 pm – 5:30 PM
12/18 5:30 PM – 7:30 pm
12/20 1:30 pm – 3:30 pm
12/22 noon – 2 pm, 2 pm – 4 pm
The location of the studio is 136 E Service Road, Binghamton, NY 13901.
Payment and registration required! Please use the PayPalbutton below to submit payment (you will be taken to our PayPal site); registration can be submitted here: https://forms.gle/foETeRvraB9wbnR6A
Examples of Jim Pavlik's work can be viewed here: https://pavlikphotoanddesign.com/
Not a STYP member? Join today to receive the discounted price on this and future events!
Have questions? Please email president@styp.org

Chances are– you're stuck at home these days. Chances are, too, that you may have been spending a little too much money at your local liquor store to substitute going to your favorite bar (don't worry– we're frequent fliers these days).
Instead of buying a new stash for the holidays, how about you treat yourself to a homemade batch of hard cider– and the supplies to refill your wine, cider, and beer cabinets at any time?
On November 21st at 12:00pm EST, STYP will be hosting a virtual "Learn to Brew: Hard Cider!" event in partnership with North Brewery, The Cider Mill, and Doc's Homebrew Supplies. Both STYP members and non-members will receive exclusive discounts on brewing supplies upon registration so you can make your own batch right at home! Additionally, all attendees 21 and over are eligible for either a free pint or $5 off a four pack of beer at North Brewery.
More of a dry cider fan, or do you prefer something sweet? Through our event, you'll learn how to use a variety of yeasts, spices, and sugars to create your perfect flavor, just to your liking!
Once you purchase a brewing kit, it can be used indefinitely for future recipes– from hard cider to beer to even wine! In the coming weeks, we will host a follow-up tasting event where we can share what we learned along with an opportunity to ask questions on how to get the perfect batch next time. Batches brewed during the event will be ready just in time for the December/January holiday season!
Interested? To join, you must pre-register through the form below (also linked here!). A Zoom link for the event will be sent along with a confirmation email upon registration. To guarantee a spot in the Live session on November 21st, payment and registration needs to be made by this Friday (11/13) at 3:00pm EST.
Payments and registration received by Monday, 11/16, before 3:00pm EST are eligible for additional live spots, space permitting, along with access to our recording.
Can't make the Live session? If you register by November 20th, you will receive access to our exclusive video recording, along with full directions to complete your home brew.
While this event is open to everyone at discounted prices, STYP members receive extra deals upon registration– paying 40% less than non-members! Unsure if you're a member? Email membership@styp.org to find out. Not a member yet? Join today and receive discounts on this and future events!
Everything you need to make two gallons of hard cider is included with the purchase of your kit. If you would like to make additional gallons of hard cider, you can purchase more supplies: a carboy (to store the cider) along with a gallon of cider or just a gallon of cider (if you already have an additional carboy at home or want to enjoy a fresh glass of cider while brewing).
Registration Link: https://forms.gle/SQpyKNGN33WaTQTg9