styp
now browsing by tag
Volunteer at Binghamton On Tap 2021 while helping benefit the Southern Tier Young Professionals– and have an awesome time doing it! Our volunteer shift is 1-5pm on Saturday, September 18th at the Broome County Fairgrounds (Whitney Point, NY 13862). MUST BE 21 TO VOLUNTEER– sign up using the link below.

What do you do? Simple– pour beer, cider, or seltzer for patrons!

What will you get? Free admission to the event, a complimentary tasting glass, a t-shirt, and the ability to sample beers during the event! Plus, hang out in an atmosphere filled with live music, delicious food available for purchase, and great vendors!

PLEASE ARRIVE AT 12:45PM IF YOU HAVE SIGNED UP TO VOLUNTEER. Please note – you MUST have signed up on the link below in order to participate as a volunteer. Additionally, please only sign up if you know you can participate so someone else can register if you can't!

TO SIGN UP:
Use the link below to register*
*You do not need an account with signup.com to register
Want to learn more about Binghamton on Tap? Check out this website: https://americaontap.com/event/binghamton-on-tap/
Join us on the patio at Remlik's Grille & Oyster Bar August 26th from 6pm-9pm for our Summer Celebration and kick off the close of another summer season come and gone! There will be free food, raffles for new and current STYP members, a cash bar, and more awesome and fun opportunities! If you have never been to a STYP event before, this is a great introduction to what we have to offer.
Come by August 26th and help us make our first Summer Celebration since COVID-19 our most successful yet!
This event will take place outside on the patio. In case of inclement weather, we will move inside.
Check out the event on Facebook!
Looking for a chance to meet other professionals? Stop by Social on State Thursday August 12th from 6pm-9pm for a mixer hosted by STYP! Free, light refreshments will be served and refreshments will be available for purchase.
Say hello and meet other professionals in the area, and sample some of the yummiest food Binghamton has to offer!
Looking for something to do? Come down to the Taco Garage Wednesday, July 28th, for STYP's first restaurant mixer event since lockdown from 6pm-9pm! We will have a gift card raffle for new members and renewals, so check up on your membership status by emailing us at styp@styp.org. Have a friend who is a young professional and is looking for ways to network? Invite them along!

In lieu of a second quarterly meeting, current members will have the opportunity to view reports and have any questions answered. Drop by to hear what's new with STYP!

The event will take place outdoors, but will move inside if it rains. Rain or shine, stop on by!
Today we are recognizing and celebrating Juneteenth!
What is Juneteenth?
Juneteenth is a national holiday celebrating the liberation of Black Americans from slavery, when news of the Emancipation Proclamation made its way to the furtherest corners of the confederacy. While the Emancipation Proclamation was instituted in 1863, it was two and a half years later on June 19th, 1865, that all confederate states seceded to the Union and adopted the proclamation, thereby bringing an end to slavery in the United States.
Despite its importance in American History, Juneteenth did not become a federally recognized holiday until 2021 after the rise of social justice movements. Today, it is used to celebrate Black Americans and learn more about American History.
Ways you can celebrate Juneteenth:
Read a book! Learn more about Juneteenth, Black American History, and social justice issues by exploring your options at the local libraries. Can't go out? Then check out the Internet Archive, where you can browse and check out books online all for free. Here's some suggestions to get you started.
Support local Black-owned businesses! Check out the Support Black Business 607 Facebook group for suggestions: https://www.facebook.com/groups/188943112400257/
Check out a local celebration! There is one today from 12pm-4pm at Assata Shakur Park (formerly Columbus Park) on 50 Carroll Street in Binghamton!
STYP's Annual Meeting is February 24th at 6pm on Zoom! Tune in to hear about the future of STYP, upcoming events, and more! Elections are open for at-large Board of Directors (non-officer) positions– must be a current STYP member to vote/participate. Join here: http://styp.org/join-styp/
Zoom Information:
Join Zoom Meeting
Meeting ID: 979 7437 3760
One tap mobile
+19292056099,,97974373760# US (New York)
+13017158592,,97974373760# US (Washington DC)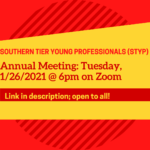 UPDATE: Due to unforseen technical issues, this meeting has been rescheduled to 2/24/2021. New details incoming.
STYP's Annual Meeting is this upcoming Tuesday, January 26th, at 6pm on Zoom. Come tune in to hear about upcoming events and the future of STYP! Members and non-members alike are welcome!

Zoom Information:
Meeting ID: 989 7724 3568
One tap mobile
+19292056099,,98977243568# US (New York)
STYP's final quarterly meeting of the year will be on Tuesday, 12/29/2020 @ 6pm on Zoom. Tune in to hear what we've been doing and our plans for the future– in addition to letting your own voice be heard! Must be a current member to vote!
We will be having a giveaway during the event, open to current members!
Not currently a STYP member? Join today to be able to vote. Membership details (and sign up) can be accessed here: http://styp.org/join-styp/
Zoom Information:
Zoom ID: 995 4216 2094
One tap mobile +19292056099,,99542162094# US (New York)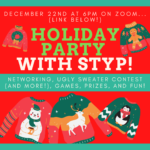 Looking to get into the holiday spirit? Missing your typical yuletide celebrations? Well, STYP is here to bring the party to you! Come join us December 22nd at 6pm for a virtual holiday party on Zoom!

There will be networking opportunities, games, an ugly sweater contest (along with others!), prizes, and lots of fun! Tune in through one of the options below!

Zoom information:
Zoom ID: 981 3662 6934
One tap mobile +19292056099,,98136626934# US (New York)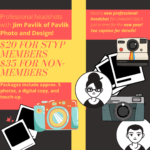 In need of a new professional headshot for your LinkedIn? You're in luck! STYP is partnering with Jim Pavlik of Pavlik's Photo and Design to offer discounted photo packages aimed at refreshing your resume, just in time for the new year (and new opportunities)!
Prices are:
$20 for current STYP members
35 for non-members 
Photo packages include: 5 photos, a digital copy, and touch-up to one photo
Each session is 10-15 mins max. 
Days and times available are as follows: 
12/17 5 pm – 7:30 pm
12/18 1:30 pm – 3:30 pm
12/18 3:30 pm – 5:30 PM
12/18 5:30 PM – 7:30 pm
12/20 1:30 pm – 3:30 pm
12/22 noon – 2 pm, 2 pm – 4 pm
The location of the studio is 136 E Service Road, Binghamton, NY 13901.
Payment and registration required! Please use the PayPalbutton below to submit payment (you will be taken to our PayPal site); registration can be submitted here: https://forms.gle/foETeRvraB9wbnR6A
Examples of Jim Pavlik's work can be viewed here: https://pavlikphotoanddesign.com/
Not a STYP member? Join today to receive the discounted price on this and future events!
Have questions? Please email president@styp.org