Mixer
now browsing by tag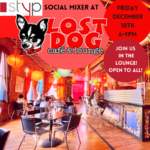 Looking for a break from the holiday chaos? Want to connect with other local professionals? Just looking for a night of good times and conversation? Then join us Friday, December 10th from 6-9pm for a fun-filled night of networking at the Lost Dog Cafe & Lounge! The event will be taking place within the lounge portion of the café. 
Come hear about upcoming events, including our holiday party, and have a great time networking with other like-minded individuals!
Check out and share the event on FB: https://fb.me/e/2UoNXgkK1
Are you looking for a quick break away from the kitchen during your holiday cooking? Kick off the holiday season with STYP for a fun-filled evening at the Factory by Beer Tree, located in Johnson City at the Oakdale Mall! Join us on Wednesday, November 24th from 6-9pm for a pre-Thanksgiving mixer— all are welcome, so bring your friends!
We will be offering free food during the event. Stay tuned for more fun details as we get closer to the date! Connect with other young professionals for drinks, food, and great conversations on Wednesday, November 24th! 
Check out the event on Facebook: https://fb.me/e/1e2dybbDO
Looking to chill out after a long work day? Join STYP at the North Brewery on November 10th from 6-9pm!
Haven't checked out the North Brewery yet? Visit them on Facebook and Instagram! Additionally, keep your eyes peeled for an upcoming announcement about a virtual "Brew Your Own Hard Cider" event with the North Brewery!
Come stop in for a brew on November 10th and see what STYP's been up to!
Check out the event on Facebook: https://www.facebook.com/events/417801629853229/
Ease into your Halloween weekend with us for a mixer on Thursday, October 28th from 6-9pm at the Pour House Pub and Grill! If you are looking for an array of eclectic, not-your-average bar food, this is your place to be. Additionally, there will be a special on $9 Ketel One Botanical mules!
Join us for drinks, good food, and great company! This event is open to members and non-members alike; bring your friends!
Check out the event on Facebook: https://www.facebook.com/events/1657320691266741/
Check out the Pub House:https://thepourhousejc.com/
Our next mixer is at the Brass Lantern on May 28th at 6:00 PM.